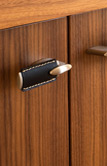 LUXURY LIVING. URBAN CONVENIENCE.
Located in the heart of Eagle Crest Estates, an exclusive gated community bordering the Cibola National Forest, this premier home and its unsurpassed location create a restful sanctuary from the stresses of everyday life.
Nestled among the pines, piñon and juniper, this exceptional contemporary home provides the tranquility of nature with uncomplicated access to work, schools, shopping and dining. A short 8 miles east of Albuquerque, this ideal location affords shorter commute times than most in-city neighborhoods.